20FT D20 Dish Washing Trailer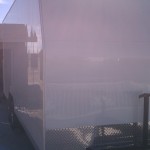 Portable dishwashing trailer rental for our 20ft mobile dishwashing trailer unit by calling our 800 number nationwide.
People are actually happy and satisfied with the equipment and the service as they find them very economical. Portable dishwashing trailer 123 have the best price, the best service, and the best quality. They have staff who are willing to work with people who have the need for the service and are actually happy with it. They get on the phone with them and getting what they need, talking with them, getting the things and items they needed in order to get their project and construction needs.  It is their job to make sure that the customer has everything they need to get the service started.
20 Ft. D20 Dish Washing Trailer. 1 Soil Tray, 3 Compartment Sink, 2 Compartment Sink, Wire Racks, 2 Push Through Low Temp Dishwashers, 220 Single Phase, 20ft Trailer.