20FT Refrigerated Container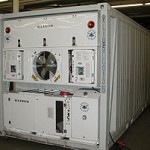 Our 20ft Reefer Container can be delivered in across the United States, and Canada!
Our refrigerated containers provides secure, temperature controlled storage solutions, perfect for transporting, and storing temperature sensitive goods.
Our Refrigerated Container rentals answers all health department concerns. The staff is able to offer full installation of the attachment kitchen including ADA Compliant entry and exit rams installed by licensed contractors.It includes a plumbing package that covers a waste pump and full kitchen design, schematic, autocad and permit drawings.
Our 20FT Refrigerated Container are electrical units – 3 Phase 30 Amps.