38ft Mobile Kitchen K8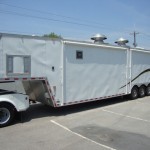 Mobile kitchen Rental for 38ft mobile kitchen.
"Everything you have in your kitchen, we have it." This is the company motto of Mobile Kitchen Rental, a kitchen rental company based in Southern California that specializes in mobile kitchens for renovations, expansions, disasters, people that are needing temporary solutions for their food service, restaurants, and other types of cooking needs. They specialize in providing temporary mobile kitchen rentals to the following industries: Health Care Industry, Assisted Living Homes, Disaster Relief Agencies, Restaurants, Camps, Schools, Government, Armed Forces, Commercial & Industrial Food Service, Marketing Activations, Corporate Hospitality and Correctional Facilities.
38ft 6 burner stove with two ovens with 2 by 2 griddle 35# deep fat fryers (2) 3 door refrigerator 2 door freezer Convection Oven (1) Stock pot burner 80 gallon water tank 10 gallon hot water heater Hand washing sinks (2) 3 compartment sink 50 gallon propane tanks (2) Grey water tanks (1) ****Generator Included * Excellent condition * All units 2007 and newer * Diamond Plated flooring * Low entrants; less than 36 inches off the ground * 33% more usable space than most mobile kitchens (space calculated on actual usage area instead of bumper to bumper) * Dishwashers utilize high pressure commercial cleaning system (available in most mobile kitchens) * All units installed with Ansul suppression system * Units detailed and cleaned with a high pressure washing system
Hitch Requirements :
38 Ft Trailer –
1. Need a 3500 Series or 5500 Series Truck Would be best to pull the trailer
2. Gooseneck – 2 5/16th Ball Hitch
3. It has an Electrical Landing Gear
4. Weight 17,600 lbs
Electrical Requierments : 220 80 AMP service must be directly connected to Panel by electrician