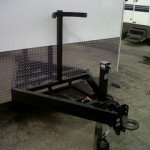 We provide mobile dish washing trailers for rent nationwide. We provide our services to correctional facilities, hospitals, schools, colleges,hotels, restaurants, nursing homes, assisted living homes, skilled nursing facilities, special events, prisons, correctional institutions  and all commercial food service kitchens
Our dishwashing trailer comes fully equipped with:
2 Three Bay Sinks
2 Handwashing Sinks
1 Soil Tray
Wire Wracks
1 Low Temp. Push Thru Dishwasher 220 single phase
1 Hobart Conveyor Dishwasher 200-230 volts for Motor
200 for Heat
3 phase, 10.4 amps, 60 hz and more.
Rent our 20ft mobile dishwashing trailer unit by calling 1-800-205-6106. We deliver nationwide.